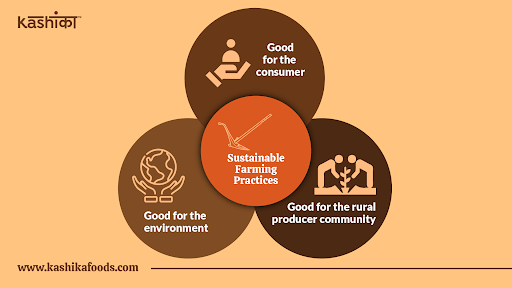 "ये मसाला वसाला से क्या होगा?"
Kashika is a social enterprise with a two-fold purpose. One is to create a stable, empowering platform for the rural women in its sphere. Second, is to make pure, chemical free masala blends using the traditional knowledge of these women.
When we began our humble journey, the acceptance we'd hope to receive didn't come through at once. It took us a fair bit of effort to convince the village elderly, the menfolk, and the rural women, who had never set foot outside of their homes for "work". It was worth the wait and endeavor, because now our rural didis speak very fondly about their work, share their knowledge with pride and most importantly encourage other women to join the unit. 
We know our masala indeed has some magic. For every pinch of Kashika that you sprinkle on your food, you sprinkle some joy. With their new found confidence and fervor our didis traverse their own special life journeys. Their paths often intersect with Kashika in ways that positively enliven and enrich lives. Scroll down to see how.
चखते रह जाओगे, हमारी guarantee  हैं!
Dozen-odd relatives have come home for lunch. Partho busily rolls the puris and dips them in the hot oil, the clinking of her bangles creating a soft symphony. Everyone is eager to dig into the scrumptious looking meal – puri, sabzi, daal, chaas, papad, and a milky sweet dish. After the lip-smacking meal, the ladies gather around Partho to learn the recipe for the sabzi they relished heartily. Partho seizes the opportunity and shows off her masala paiket saying – 
"Arrey bhabhi, yeh lo Kashika ka sabzi masala. Dal ke dekho kya swad aata hain" 
[Translation] ("Sister, this is Kashika's Sabzi Masala. Try it! It gives the food a flavorsome touch.")
She then gives everyone a packet, for free! The ladies are awestruck! 
Partho explains how the women of the village, including her, make their own masalas and sell them. 
"बहुत बढ़िया हुआ ये तो! " [Translation]("That's a great thing!"), they exclaim in unison and are eager to visit the unit and to know more.
Without a doubt, our strongest ambassadors are the rural didis like Partho, the ones that expend the most time carefully hand-making these masala.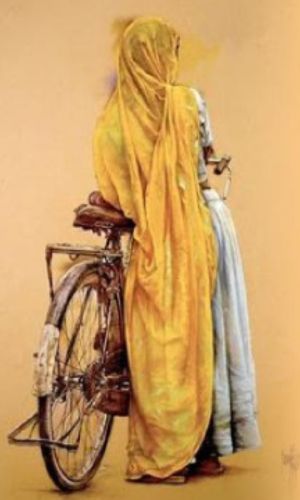 आज कल काम करना जरूरी हैं, दीदी!
Twenty-one year old Parul comes to the unit on her rickety bicycle. She has two younger siblings, a boy and a girl, who attend the nearby government school. Ask Parul about marriage and she dodges the topic saying that she cannot think of marriage until her siblings are well educated and find good jobs. 
With a debt-ridden farm, even the unit ka kaam isn't enough to feed the many mouths in her family she states quite matter-of-factly. It certainly helps, she says as an afterthought. "Aaj kal kaam karna jaroori hain, maidam. Shaadi vadi toh hoti rehegi" [Translation] ("These days it's important to work ma'am. Marriage can happen later.") 
Her determination is intense. Her quest for financial stability is evident and overpowers any of her wants.
She breaks into a broad smile as she notices her siblings trying to peek inside over the factory gate. As Parul prepares to leave, they cling on to her cycle in a jiffy. The trio wave a resounding good-bye and are off, raising a trail of dust behind them.
Kashika is powered by women like Parul and Renu, who are trailblazers. They strategically set their priorities keeping the wellness and stability of their family in mind despite backward mindsets they are hammered with in their underdeveloped settlement. 
They are as fiery as the Kashika products you love.
Deepika, who founded the brand Kashika, is an engineer from BITS Pilani, with an MBA from IIM Ahmedabad. She is passionate about two things – creating an enabling environment for women, and eating good food! It was while working with spirited rural communities in Varanasi that she saw that her two great passions could be combined with traditional expertise of the rural people,  to create an enduring enterprise that brings power and joy to everyone involved.
With Kashika, she hopes to create an ecosystem that truly gives rural women the space to grow, prosper, and share their abundant love with the world on an equal footing. Additionally, Deepika works in the social development space with a range of communities and brings a strong social lens to Kashika.